TNT Marine Canvas & Upholstery located in Kemah, Texas was established in 2001 and servicing the Clear Lake, Galveston area and the surrounding Counties. Our specialty is Marine Upholstery and Yacht Interiors for both Power and Sailboats including cockpit cushions, bunks, settee cushions, helm seats, bow cushions and all your upholstery needs. We use only the highest quality marine
grade fabrics and vinyls. We also offer the highest quality foam with all thicknesses, firmness, shapes and densities available, including "Dry Fast" a non liquid absorbing foam used for outside weather conditions. This includes our custom patio furniture. All our products are made to withstand the elements on both land or sea.

Debbie Gentry the owner and designer has been servicing the Marine Textile industry for over 30 years. Previously based in St. Augustine, Florida working with the Luhrs Corporation. Designing and sewing interior upholstery and outside canvas tops and enclosures for all
the new Hunter Sailboats, Mainship Trawlers and Luhrs Sport Fishing boats. She also worked on many other types of boats involving the custom design and refitting of the interiors including Chris Craft, Hatteras, Bertram, Grand Banks, Carver, Sea Ray powerboats and Hunter, Catalina, Island Packet and Irwin and Morgan sailboats, to
name a few. Involving all types of design, repair and renewal of upholstery and canvas.
Friends of Deb
Having lived, sailed and worked on the Florida and Texas Gulf Coasts for many years and being the good-humored mariner that she is, Deb has made many friends in the marine textiles industry. After many years living aboard their sail boat with her husband, David Allen, owner of TNT Yacht Repair, they came back to land and purchased a home. Put these two together, they can handle about anything you may need from small runabouts to large cruisers. As a proud United States Coast Guard family, her oldest son has been in the Coast Guard for 15 years and is a Lieutenant and her youngest son is studying Forensics. Quite a family!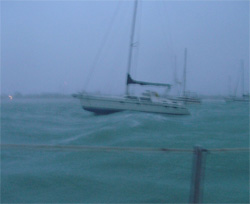 Deb & David - Riding Out Hurricane Wilma 2005 ---Off the Florida Coast